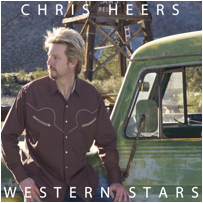 You can listen to & buy "Western Stars" Here:



You can also buy my CD's complete with jewel case and liner notes here... Autographed (By Request)
In Las Vegas & Phoenix you can find my music at...

In San Diego you can find my music at...

Chris Heers – "Western Stars"
Stories behind the songs
Dirt Rich:
Dirt Rich is loosely based on my relatives who live on what they call the "Dirt Farm" which is a big mobile home 50 miles outside of Tucson in the middle of the Sonoran Desert. They have a small farm and they are the happiest richest people I ever met. The farmer in the song, though, is me, (if I had an Illinois farm, three more kids, and a dog named Dude…)
Happy Thought:
One of those real life songs that came out during the pressure of everything falling apart at once like it does. Bills, work problems, bad news everywhere, and my little girls playing tag with the cat. Just makes you smile and forget about everything else. Happiness is all about choosing what you focus on.
Stray:
A lot of my songs start out with a blank piece of paper and nothing. This is one of them. I was doing this little chord riff – I still don't know what that chord is called. I showed it to Pat, my bandleader, and he told me what it was but I forgot. I remember thinking, when I was first playing that riff, "This song is about an Indian Chief… no it's about a stray dog. It was a happy lonely chord and I could see the dog walking on the sidewalk; his shadow bouncing. People ask me if it's about a homeless person and I tell them, no, it's really about a stray dog. Sometimes they look disappointed. Hell, maybe it is about a homeless person.
Cow or Cowboy:
My great grandpa was a dairy farmer in Oregon. He sat me on one of his bulls when I was about eight or nine. I wasn't riding it, I was just sitting on it but it still was scary as hell. I can't remember exactly what he told me but it was synonymous with "Cowboy up". People ask me what happens to the character at the end of the song. I don't know.
Beyond:
I used to emcee the Susan G Komen Foundation's drive for the cure in Las Vegas every year. I'd give a little intro speech and then introduce people. The last year I did it, I went to the funeral of a friend who had died from breast cancer. She was 35 with a young family. I don't think I realized how real cancer is until I saw her in the church laying there. I remember telling my girls that it was not her in that box; she was somewhere else far away. I was driving to work a few months later thinking about what I was going to say in my Komen intro speech and I started thinking about that day. Thanks to A.D.D, the first line of this song came to me and I started to see it. I could feel this Jimmy Stewart, Frank Capra "It's a Wonderful Life" lasso the moon thing happening. I could see Gene Autry and Roy Rogers there in the church singing side by side. I sang the first lines into my voice mail. I had to wing the speech.
Little Drummer Girl:
Another song that came out of nowhere. It was Christmas time a few years ago and I was doing this chord progression that made me think of the little drummer boy, that pah rum pum pum kind of thing. I plugged my Takamine into a tube preamp and this song came out. I just love the idea of the crowned prince falling for a pierced and tattooed drummer chick.
Long Lost Friend:
When I wrote the first line of this song I thought it sounded like Elton John. I think I must have had that Elton Goodbye Yellow Brick Road thing going on subconsciously because this song has a scarecrow, a girl who goes off to the city and Kansas wheat fields. If you didn't guess, I have a thing for old farms. I kind of have one now although the biggest thing I grow is basil. I could see how that life could get in your blood and never let you go. It's a love song.
Nowhere Train:
I had a girlfriend in college who was a slightly older supermodel.  She wore fur coats, drove expensive cars, and had a string of previous boyfriends who all owned their own jet airplanes.  I was just some penniless cowboy in between and I remembered thinking that it was going nowhere; she was too good for me.  I messed the whole thing up by falling for her.  Sometimes when I write I also have a future music video playing in my head.  In this one I saw a guy carrying his glamorous paparazzi endowed date's bags onto an airplane, or as it ended up in the song, a train.  I also remembered the story about when Britney Spears married that dude for about a week and then annulled it.  That's how I felt when I was 18.  That's the gist of the song - "I'm your man - until you're done..."  Funny thing, I looked back at my notes for this song and my original first line was "Runway Girl".  
Sarah the Butterfly:
I was driving to work and I hit a butterfly. I started to think about where it might have come from and where it might be going; and where it might be now. I started hearing this song. I didn't know her name at first. Sarah just kind of showed up. I sang what I had into my phone's note pad and finished most of it that next morning. I was at the ranch that weekend with my girls and I had my little nylon string. The song wasn't finished but I played what I had. They got really quiet at the end and then burst out laughing and fell over rolling in the grass. I put the song on the shelf after that. Almost exactly one year later the butterflies were flying and the song started going through my head again. I couldn't stop thinking about it. I pulled it off the shelf and finished it. People have asked me about Saturday Road. I don't know where it is. It just came out of some mumbling on my work tape. It sounded like I said Saturday.
Stick Horse Rider:
My girls never got into video games. Their entire lives revolve around horses and being outside. They work way harder than I do. When they were really little they were the same but they had a herd of stick horses and they would invent all kinds of venues to ride them in. They made jumps out of pillows, and laundry baskets. They'd set them up in the house, the yard, anywhere. I finally had to buy an Xbox to try to get them inside. It didn't work, and I didn't want it to go to waste so I bought a bunch of war games… That's why it's taken me so long to finish this record.
True Love:
Another song that started with a cool strange finger picking thing. This is the only song I've ever written that has whales in it. When I see this song I see whales swimming at night; frozen telephone wires on one side of the world and a white beach on the other side. The characters are both walking; him on the frozen road and her on the beach. The sun is hitting the water in a million shiny diamonds on her side and lighting up a snow banked seaside road on his. I'm not sure if she is in Africa, or Ireland; maybe Australia. He is on the East Coast I think. True Love came from me thinking about an old 18th century sailing ship called the Truelove. I was drinking a Starbucks Coffee which sometimes makes me think about old sailing ships since Starbuck was the first mate on Moby Dick. Old sailing ships make me think of whales.
Your Son:
I have had this song for a while. I wrote this song after seeing the movie "Frequency". The scene between Jim Caviezel and Dennis Quaid where they first realize that they are father and son got me. Man that was a great scene. Caviezel says, "I miss you so much… I've missed you so much dad." It moved me and I held on to that emotion and wrote this song right after seeing it. This, like all the songs on this record, is one that just would not go away. I never get tired of playing it.
© 2009 Saddlefarm Music and Media LLC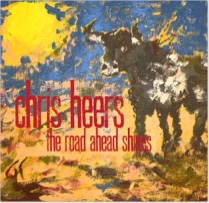 Click on the cover for more info.